National Finals and Online Finals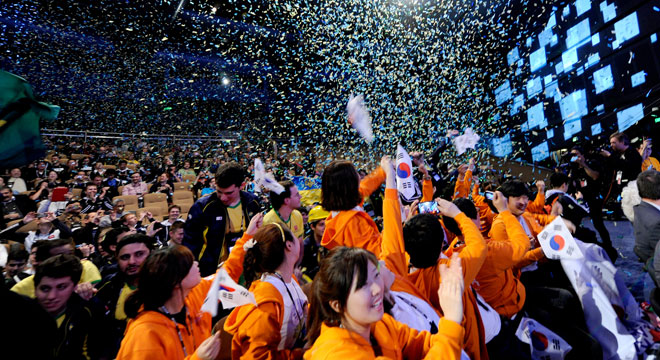 Ready to compete in the Imagine Cup? This is where you start.
You must compete in your country's National Final or Online Final to advance in the Imagine Cup. The contest you enter, the materials you submit, and the deadlines you must meet all depend on which country you're competing in.
What are National Finals and Online Finals?
Dozens of countries around the world hold an Imagine Cup National Final for students in that country. If there is a National Final where you live, you'll need to compete in it to advance to the World Semifinals.
For all other countries without a National Final, we offer an Online Final where students in the rest of the world can compete. Teams from the Online Final can then advance to the World Semifinals with everyone else.
You cannot compete in both. The Online Final is not available in countries with their own National Final.
Which one is offered in my country?
Find your country on this list. If you see 'National Finals', your country is holding a National Final this year. Click the link for more information! (Or check back if the link isn't active yet — more countries are getting started every week.) If you see 'Online Finals', you're eligible to participate in our Online Finals competition.
If you don't see your country listed, check back later, as we finalize our plans for the 2016 Imagine Cup season!
Click here to see Online Finals List
National Finals
Australia (Innovation, World Citizenship)

Azerbaijan

Bangladesh

Belarus

Bosnia

Costa Rica (Innovation, World Citizenship)

Ecuador (World Citizenship)

Guatemala (Innovation, World Citizenship)

Malta

New Zealand (Innovation, World Citizenship)

Qatar

Romania

Sri Lanka

Thailand
Click here to view Nation Finals
Online Finals
Click here for Online Finals information
Afghanistan

Åland Islands

Albania

American Samoa

Andorra

Anguilla

Antarctica

Antigua and Barbuda

Argentina

Armenia

Aruba

Australia (Games)

Austria

Bahamas

Bangladesh

Barbados

Belgium

Belize

Benin

Bermuda

Bhutan

Bolivia

Bonaire

Botswana

Bouvet Island

British Indian Ocean Territory

British Virgin Islands

Brunei

Bulgaria

Burkina Faso

Burundi

Cambodia

Cameroon

Canada

Cape Verde

Cayman Islands

Central African Republic

Chad

Chile

Christmas Island

Cocos (Keeling) Islands

Colombia

Comoros

Congo

Congo (DRC)

Cook Islands

Costa Rica (Games)

Côte d'Ivoire

Curaçao

Czech Republic

Denmark

Djibouti

Dominica

Dominican Republic

Ecuador(Games, Innovation)

El Salvador

Equatorial Guinea

Eritrea

Estonia

Ethiopia

Falkland Islands

Faroe Islands

Fiji

Finland

French Guiana

French Polynesia

French Southern and Antarctic Lands

Gabon

Gambia

Gaza Strip

Georgia

Ghana

Gibraltar

Greenland

Grenada

Guadeloupe

Guam

Guatemala (Games)

Guernsey

Guinea

Guinea-Bissau

Guyana

Haiti

Heard Island and McDonald Islands

Holy See (Vatican City)

Honduras

Hungary

Iceland

Indian Ocean Islands

Iraq

Ireland

Isle of Man

Israel

Jamaica

Jan Mayen

Jersey

Kazakhstan

Kenya

Kiribati

Kyrgyzstan

L. America Other

Laos

Latvia

Lesotho

Liberia

Libya

Liechtenstein

Lithuania

Luxembourg

Macao SAR

Macedonia (FYROM)

Madagascar

Malawi

Maldives

Mali

Marshall Islands

Martinique

Mauritania

Mauritius

Mayotte

Micronesia

Moldova

Monaco

Mongolia

Montenegro

Montserrat

Mozambique

Myanmar

Namibia

Nauru

Netherlands

Netherlands Antilles

New Caledonia

New Zealand (Games)

Nicaragua

Niger

Niue

Norfolk Island

Northern Mariana Islands

Norway

Palau

Panama

Papua New Guinea

Paraguay

Peru

Pitcairn Islands

Portugal

Puerto Rico

Reunion

Rwanda

Saba

Saint Barthélemy

Saint Eustatius

Saint Helena

Saint Kitts and Nevis

Saint Lucia

Saint Maarten

Saint Martin

Saint Vincent and the Grenadines

Samoa

San Marino

São Tomé and Príncipe

Senegal

Serbia

Seychelles

Sierra Leone

Slovakia

Slovenia

Solomon Islands

Somalia

South Sudan

Southern Georgia and Sandwich Isles

Spain

Suriname

Svalbard

Swaziland

Sweden

Switzerland

Tajikistan

Tanzania

Timor-Leste

Togo

Tokelau

Tonga

Trinidad and Tobago

Turkmenistan

Turks and Caicos Islands

Tuvalu

Uganda

Ukraine

Uruguay

US Minor Outlying Islands

US Virgin Islands

Uzbekistan

Vanuatu

Venezuela

Wallis and Futuna

West Bank

Western Sahara

Yemen

Zambia

Zimbabwe