Imagine Cup Grants 2013
Microsoft's Imagine Cup grant program awards cash, software, and access to resources to a select number of Imagine Cup Worldwide Finalists who are looking to take the next step and bring their solution to market to realize its potential to solve a critical global problem.
The Imagine Cup grant program is part of the YouthSpark initiative, Microsoft's commitment to empowering 300 million young people with opportunities in education, employment and entrepreneurship by 2015. The Imagine Cup grant highlights student creativity and innovation and provides a springboard for taking their projects to the next level.
This year, more than 40 Imagine Cup teams applied for a grant. A judging panel of industry experts with knowledge spanning technology, venture capitalism, software development, startup culture and the nonprofit sector ranked each team based on specific criteria, including project impact and viability and team quality and motivation.
This year's Imagine Cup grant recipients are:
Grand Prize Winner: Team OHS, Taiwan
Team Members: Vincent Liaw, Dale Hsieh, Eric Chao, Ante Cheng and Sylvie Liaw.
Academic Institute: National Taiwan University
Website: http://omni-hearing.com/
Project Description: Omni-Hearing Solution (OHS), a mobile application available on Windows Phone, is a hearing solution to ensure everyone has access to full hearing ability. Through a simple hearing test, OHS helps users identify what their hearing difficulties are and creates customized settings to modify sounds that are out of hearing range to improve sound quality.
Team Confufish, Australia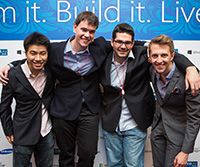 Team Members: Brad Lorge, Matt Moss, Kenneth Wong and Nick Darvey.
Academic Institute: The University of New South Wales
Website: www.foodbanklocal.com
Project Description: Foodbank Local is a multiplatform mobile application to help solve world hunger. This app provides real-time information to donors including individuals and businesses, charities and drivers to match local supply to local demand. This helps ensure leftover food can be donated efficiently. Additionally, this app provides information to help optimize transporting donations by providing the best route to drivers so food is distributed where it is needed most.
Team RUOK, Ireland
Team Members: Killian McCormack, Damian Fee, Gabriel Cioflica, Linzi Ryan.
Academic Institute: Institute of Technology Sligo
Website: http://ruok.tv/
Project Description: RUOK provides an engaging TV application to provide support to the needs of elderly people living independently at home. By connecting the RUOK box into a TV, users can interact with others through video chat via Skype, access exercise programs and receive important notifications from devices such as a smoke detector, alarm system, heart rate monitors and reminders about medications or events. RUOK aims to assist with some of the challenges our aging population experience while living independently including loneliness, mobility, ailing memory and reassurance.
Team DORA, Slovenia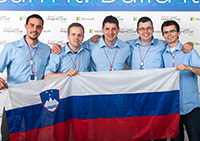 Team Members: Zedin Salkanović , Andraž Leitgeb, Matej Vogrinčič, Kristjan Košič and Boštjan Arzenšek.
Academic Institute: University of Maribor
Website: http://www.adora-med.com
Project Description: DORA is an interactive physician's assistant that provides patient information before and during a surgical procedure, eliminating the need for surgeons to leave the sterile operating room. The efficiencies from DORA help reduce costs and anesthesia time for the patient. DORA consists of two applications; Organizer is an application accessible on a Windows 8 tablet that helps a surgeon prepare for a surgery; and Assistant, which is used during surgery and uses gestures and voice commands to provide critical patient data to the surgeon.